What Is Credit? (And Why It Matters)
You know you're supposed to have good credit, but what is credit, anyway? How does it work, and why should you care? Let's do this.
Credit is a powerful financial tool because it helps us get things we might need now, like a loan to buy a car or a credit card to buy a new phone, with the understanding that we'll pay later.
Credit is also a system companies use to assess how likely a person is to pay back a loan. That's where credit reports and credit scores come in.
But you might be wondering: Why does this matter? Great question.
Strong credit can help you reach your financial goals — and it can save you oodles of cash along the way. Credit can affect...
Your ability to buy a car or a house, or rent an apartment.
How high your interest rates are on a credit card, a car loan, or a mortgage.
How expensive your car or homeowners insurance will be.
Whether you have to pay a deposit to a cell-phone or utility company, and how big that deposit will be.
In some cases, credit can affect your ability to land a job.
Oh, and your next Bumble date might ask for a copy of your credit report. So there's that.
In other words, credit matters. A lot. And even though you never signed up to be in this system and maybe are wondering why you should bother playing along, here's why: If you think you might ever want to borrow money or rent an apartment or take out some type of insurance policy, it will help you enormously if your credit score is "good" or better.
Ready to test your credit knowledge? Try this quick quiz, and then read on to learn more.
Having strong credit will save you money and give you a ton of financial flexibility. The bad news is that building credit from scratch and fixing credit that needs reviving is a slow process. Think sloth-slow. It's not like you can wake up one morning and decide to fix your credit by lunchtime (though major props for the enthusiasm). It means planning ahead and taking it step by step.
But first, a quick word about the big picture: The credit system was built for companies to reduce their financial risk and improve their bottom lines. You and me — we're not the target audience. That makes this system a challenging one to deal with. Keep in mind there are many reasons people end up with low credit scores, and it's clear that macroeconomic forces can undermine our best efforts to get ahead. My advice? Simply do what you can within the existing system and resist shaming or blaming yourself for "bad credit."
Key takeaway
Credit is a major facet of maintaining our overall financial health. Because it takes time to build, it's smart to start working on it before you need it.
The cost of credit
Before we get into how credit works, let's look at what credit can cost you.
When your credit score is in the lowest tier (stay tuned — more below on those tiers), it's jaw-droppingly more expensive to borrow money, compared to someone whose score is in the top tier. Say you bought a new car for $20,000, using a 5-year car loan. As you can see in the table below, if your credit score is 720 or higher, you'll get the lowest interest rate and lowest monthly payment.
With that 720+ score, you'll pay $2,060 less in interest over the life of the loan than someone with a score in the 660-689 range, according to the calculator at myFICO, the company that created the first credit score. And you'll pay a whopping $7,230 less than someone with a score in the 500-589 range.
The cost of a 60-month, $20,000 new-car loan
| | | | |
| --- | --- | --- | --- |
| FICO score | APR | Monthly payment | Total interest paid |
| 720-850 | 5.519% | $382 | $2,932 |
| 690-719 | 6.73% | $393 | $3,609 |
| 660-689 | 9.141% | $417 | $4,992 |
| 620-659 | 11.733% | $442 | $6,532 |
| 590-619 | 15.925% | $486 | $9,134 |
| 500-589 | 17.533% | $503 | $10,168 |
Interest rates fluctuate. Data is accurate as of Oct. 27, 2022. Source: myFico.com
Try running your own numbers on the myFICO loan savings calculator, which lets you choose different types of car and mortgage loans.
Key takeaway
Less-than-stellar credit can cost you, big time.
How credit works
Here's how the credit system works: When you fill out an application to borrow money from a bank or other company, that company will request your credit file from one, two or all three of the major credit-reporting companies: Experian, Equifax and TransUnion.
Experian, Equifax and TransUnion create the credit reports that companies purchase to use as a tool in their lending decisions. The data in those reports helps lenders decide whether they think the loan applicant is likely to pay back the loan. They're gauging the risk of losing money if they enter into this loan. Their estimation of that risk will go into determining the interest rate they charge.
If you're approved for the loan, the lender starts reporting the details of that loan — including the loan amount and each monthly payment — to those same credit-reporting companies.
Key takeaway
The details of your loans and loan payments are reported to the credit-reporting companies, and those details become your credit file (aka credit report).
What's a credit report?
Your credit report is a document created by Equifax, Experian or TransUnion that lists detailed information about your loans, credit card accounts, credit lines, and any bankruptcies or unpaid debts such as tax liens. A credit report is a picture of your debts, past and present.
A credit report will include your name, current and previous addresses, Social Security number and birthdate, and possibly the names of your current and previous employers. Your income is not included. Also not included? Details on what you buy and where. There's no transaction history to see here.
The real meat and potatoes of a credit report is the extensive detailing of loans and credit lines, including the type of loan, date you borrowed the money, how much you owe, and a history of your payments (specifically, whether they were paid on time or not). If you've never had any debt or credit lines, your credit report will say something to the effect of "insufficient information."
Most accounts that are in good standing will show up on your credit report for as long as you're using the account or for 10 years, whichever is longer. Most accounts that are past due or unpaid will show up for seven years, though some bankruptcies can remain on your report for 10 years.
A subsection of a sample credit report, showing a consumer auto loan, with all monthly payments made on time. Source: Experian.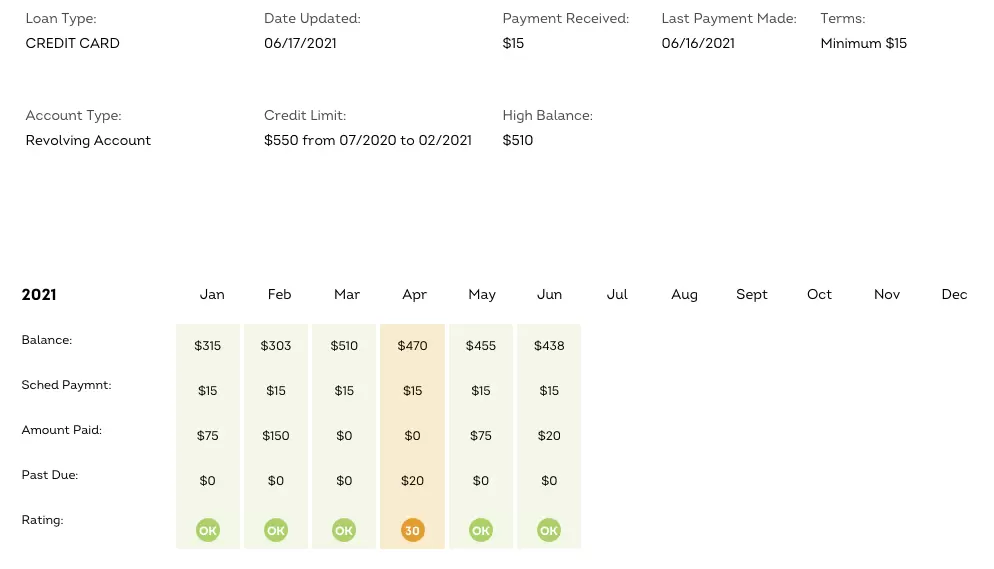 A subsection of a sample credit report, showing a credit card account with a 30-day late payment in April. Source: TransUnion.
Because credit reports are now such an integral part of the financial system, it's important to monitor your own reports to make sure no errors have crept in — the system is far from perfect and mistakes are common. You don't want to be ready to plunk down your hard-earned cash for the deposit on that dreamy apartment only to find out a credit-card company mistakenly reported your account as past due.
True or False: Your income is reported on your credit report and factors into your credit score.
Show me!
Another reason to keep an eye on your credit: It can help you foil identity theft that might otherwise be hard to detect. If someone opens a credit card using your name but their address, the entry on your credit report might be the only way to catch it.
Luckily for all of us, consumer advocates in the early 2000s ensured that we could access our credit reports for free. Go to annualcreditreport.com to pull your own report. Read more on how to check your reports in our story on how to check your credit.
Key takeaway
Check your credit reports at least once a year at annualcreditreport.com to make sure everything is accurate.
What's a credit score?
Credit scores wrangle the details of a credit report down to a three-digit number. That makes it easier for lenders and other financial companies to make fast decisions about, for example, whether to loan you money or rent you an apartment, or how much to charge you for car insurance.
See below for how two of the most common credit scores — the FICO and the VantageScore — assign values to those three-digit numbers. (Note that a lender or landlord may have their own metrics for deciding what credit scores are top-tier, or not.)
For many FICO scores, 850 is the highest number possible. But FICO makes various score algorithms and some have a higher endpoint, so we use 800+ here.
The idea is that if a person has a credit score of, say, 600, that means that person either doesn't have much experience paying back loans or has had some hiccups repaying loans in the past.
While the companies that create credit scores keep their algorithms secret, they do provide a general breakdown of the factors that go into calculating a score.
How FICO scores are calculated
FICO scores are a blend of five factors. Here's how each factor figures into the overall score.
Based on that breakdown, here are some general rules of thumb for improving your credit score:
Pay on time whenever possible, because payment history is the biggest driver of your credit score, and recent activity (within the past two years) is weighted more heavily. The more on-time payments you make now, the better it is for your credit.
"Amounts owed" in the table above refers to your credit utilization, the second-biggest driver of your credit score. How much of your available credit-card limits have you borrowed? Consider the ratio both from an overall perspective — all of your credit-card balances added together and divided by all of your credit limits added together — as well as card-by-card, and try to keep all of those numbers below 30%. The lower your ratio, the better, and zero is a great goal here. (You do not need to carry a credit card balance to improve your credit. If possible, pay your credit card early and often. You'll avoid interest charges while building credit.)
If possible, keep credit accounts open rather than closing them, because the longer your credit history, the better.
Diversifying your credit mix by having installment loans (a car loan, student loan, credit-builder loan or mortgage) and revolving credit (credit cards, home equity line of credit), can be good for your credit score. But know that applying for new credit can hurt your score in the short term. And don't make decisions solely for your credit score — consider your overall financial situation too.
Just to make things more fun, you have more credit scores than you realize. Way, way more. An analysis in 2012 found that FICO alone was using 49 different score models. And that doesn't count other score models, such as the VantageScore.
It's impossible to know which score a lender will use when they check your credit, and sometimes lenders will use their own proprietary tools, or will average your scores from each of your three credit reports. (Each of your credit reports is different, because lenders don't always report to all three credit-reporting companies, so a score algorithm may score each of your reports differently.)
Key takeaway
We all have more than one credit score, so pick one free credit score to monitor. If it's nudging higher over time, it's likely all of your credit scores are going in the same direction. Check out our story on how to check your credit score for more info.
Easy habits to build credit
The idea of credit and how to keep an eye on your credit score can seem like a lot. But it really boils down to a few key tasks. Don't worry — you got this. Here's your checklist.
Make on-time payments. This is absolutely key to building a strong credit file. Your payment history is the biggest factor in calculating credit scores, and paying on time is the essential ingredient.
Be wary about applying for new accounts and closing old accounts. The credit score algorithms don't like lots of new activity. That said, it may make sense for you to open or close an account, and that is completely fine. Just be aware that it may ding your score temporarily.
The best practice when paying your monthly credit card bill is to pay off the entire balance every month. It's a myth that you need to carry a balance to build your credit. To repeat: You don't need to carry a balance to build credit. By paying off your balance in full, you avoid getting charged interest. That is a wonderful thing.
If you end up carrying a credit-card balance rather than paying in full every month, keep that balance as low as possible. Your credit score will take a big hit if the amount you owe is more than 30% of your credit limit. For example, if you've got a $200 credit limit, don't let more than $60 sit unpaid on the card. And to set yourself up for the best credit score, try to keep your outstanding balance to 10% or less of available credit ($20 or less on a card with a $200 limit). Or take our advice and, if possible, simply don't carry a balance at all.
References
myFico Education, FICO Score Models
Next steps: Explore our full series of articles to continue learning how to build your credit .
Next ❯
How to Check Your Credit Score
About the Editorial Team