What Is Compound Interest?
question_answer What would you like to know?
Send your questions about personal finance to Ask investor.com for possible inclusion in our series.
Compound interest is when the money you earn on your money earns money. This is both an incredibly simple idea and an amazing and magical thing.
Say you put $1,000 in a bank account earning a 4% interest rate and it compounds annually.* After a year, you'd have a total of $1,040 in your bank account. Can you guess what you'd have in your account after the second year?
If you guessed $1,080, that's not a bad guess. After all, you've got $1,000 earning 4% interest, or $40, each year for two years in a row.
But look again. There's some extra money hiding in the couch cushions, thanks to compound interest.
Because the interest you earned in your first year also itself earned interest, you'd actually have $1,081.60. Now, that extra little $1.60 is tiny, no doubt about it. The rewards of compound interest need a little time to rev up. But over time, as ever-larger amounts of your interest earn interest, the benefits are big.
If you let that $1,000 sit in that bank account for 20 years, you'll end up with more than $2,190. If compounding wasn't happening, you'd have $1,800.
This gets even more impressive with bigger numbers. Got $10,000 to stash away? That'll turn into $10,816 after two years (again, 4% interest rate, compounded annually). Compounding has given you that extra little $16 boost there, on top of the $400 you're earning each year on your $10,000.
After 20 years, your $10,000 has turned into more than $21,900, vs. the $18,000 you'd have without compounding.
And how about investing in the stock market, rather than stashing your cash in a bank account? If you put your $10,000 into an investment portfolio that earns 7%, you'll end up with almost $38,700 after 20 years. Sweet!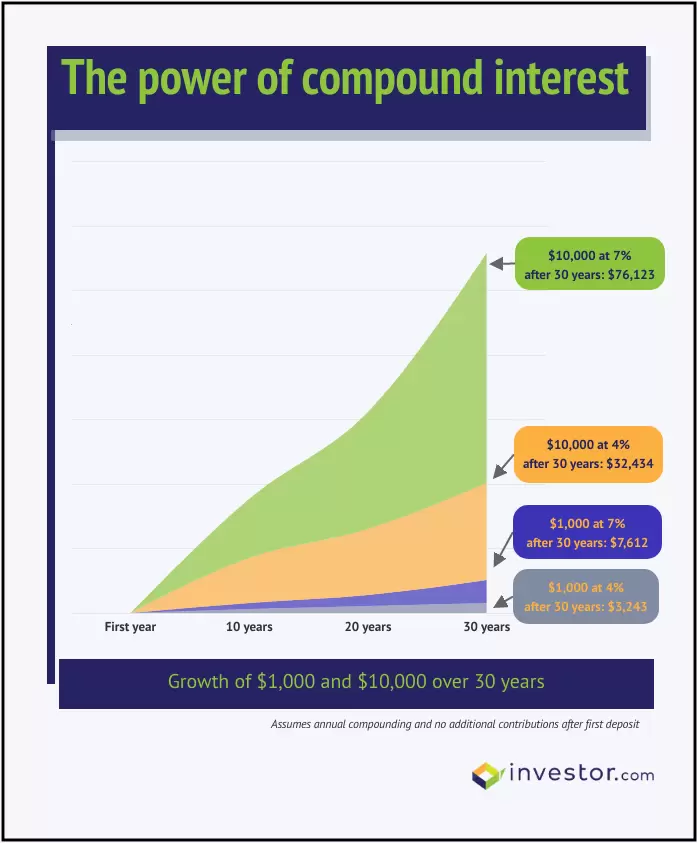 Want to try your own examples? Check out the compound interest calculator at Investor.gov. (It's confusing, I know. We're investor.com. But we're fans of that other site, too.)
*A note about compounding frequency: Many accounts compound daily or monthly — which is even better for you! — but in the above examples we used annual compounding for simplicity's sake.
lightbulb Have you heard of the Rule of 72?
This handy finance rule is a quick compound interest shortcut. The Rule of 72 tells you how long it'll take your money to double. You simply divide 72 by the interest rate (or rate of return) you expect to earn on your money. For example, you've got $10,000 and you expect to earn 6% on it? OK: 72 divided by 6 is 12, so it will take 12 years for your money to double.
Andrea Coombes, senior writer at investor.com, explains the power of compound interest.
Next ❯
How Do I Open a Roth IRA?
About the Editorial Team