Sallie Mae SmartyPig Savings Account Review
Editor's Note: Annual percentage yields (APYs) in this article are accurate as of the publication date. Investor.com updates interest rates when changes in the federal funds rate cause fluctuations.
It's all about the rate. The top priority for most people shopping around for a high-yield savings account, is, quite simply, getting the highest yield possible on your cash. Sallie Mae SmartyPig got that memo.
SmartyPig's standard 0.70% interest rate (even with its limitations, which we'll get to in a moment) helped it secure one of the top spots in our review of the best high-yield savings accounts of 2021. Various saver-friendly tools and an incredible user experience bumped it up to the No. 1 standing among the 19 savings accounts we put through the paces during our research.
Note that Sallie Mae has two savings account offerings: one that's explicitly referred to as a "high-yield savings account," and the "SmartyPig account." Both are online-only, savings-only (as in they have no checking account features). The main difference is that the so-called high-yield account pays Just 0.55% APY versus SmartyPig's 0.70% on balances up to $10,000 and 0.55% after that.
That makes SmartyPig the obvious choice for savers.
Top Takeaways for 2021
After spending seven months testing 19 high-yield accounts for Investor.com's inaugural review of the best savings accounts, here are our top findings on Sallie Mae SmartyPig:
Sallie Mae SmartyPig finished first in our search for the best high-yield savings accounts of 2021 thanks to its high (relatively speaking, these days) interest offering of 0.70% and saver-friendly tools.


The biggest drawback is its tiered interest rate structure, but only if you're socking away more than $10,000. The 0.70% interest rate applies to account balances up to $10,000. Amounts higher than that earn 0.55%, which is still on par with the highest rate offered by many of the bank's peers.


If you want to set specific savings goals and track your progress, you'll like SmartyPig's goal-setting tools, which allow users to plan and track multiple savings goals simultaneously by creating separate accounts. (There's a $50 minimum starting balance per goal account.)


Overall Summary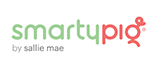 | Feature | Sallie Mae SmartyPig |
| --- | --- |
| Overall | |
| APY | |
| Fees | |
| User experience | |
| Features and tools | |
| Additional banking services | |
Pros:
Higher APY than competitors
No minimum balance requirement
No monthly maintenance fees
Supports multiple savings goals
Allows more than six withdrawals per month
Cons:
Online-only (no physical locations)
Balances above $10,000 subject to lower interest rate
Does not support mobile check deposit
User experience
All right, whose idea was the name? (SmartyPig … because of the piggy bank thing?) While the name may be our least favorite feature of this account, we'll admit, we liked the bank's dancing pig icon.
Account setup: Unlike some of the other banks we researched (ahem, Discover), SmartyPig gave us a smooth seven-step sign-up process. (For reference, of the 19 bank accounts we opened for testing, the number of sign-up steps ranged from five to 20.) The steps included entering and verifying personal information as well as waiting for the application to be approved.
Some background: Banks that use a third-party verification platform like Plaid or Yodlee scored higher than SmartyPig in the account setup category simply because that technology enables you to automatically — and instantly — link your funding account. The alternative, which SmartyPig uses, is a multi-step process wherein the bank sends two small deposits to your funding account for you to verify. This added a total of two days to the SmartyPig account funding process.
All in all, this wasn't the worst sign-up we've seen. (Spoiler: The worst was Barclays, which took a total of eight days to get up and running.)
Deposit/withdrawal options: After your money is in your SmartyPig account, you have two options to deposit more or withdraw funds: ACH (Automated Clearing House) transfer and direct deposit. We were disappointed to find that there is no mechanism for mobile check deposits; this means an outside bank account is a must-have. Customers may link only one external funding source (account) at a time, but you can change accounts if need be.
Interest limitations: As noted above, this is SmartyPig's biggest flaw: Its bomb interest rate (0.70%) only applies to your first $10,000 in aggregate savings. A lower rate (currently 0.55%) applies to any balance above that. Tiered rates are not common among high-yield savings accounts. Just one other bank in our research — Axos — has a tiered interest rate setup. Its highest APY (0.61%) is good on balances up to $24,999. Amounts above that earn just 0.15%-0.25%.
We did the math to see how SmartyPig's tiered interest rate affects savers by comparing the amount earned in one year at three different banks.
Interest earned after one year: SmartyPig vs. Affirm and Axos
| Balance | SmartyPig (0.70% on first $10,000, 0.45% thereafter) | Affirm (0.65%) | Axos (0.61% on first $25,000, 0.25% on $25,000 - $100,000) |
| --- | --- | --- | --- |
| $5,000 | $35.11 | $32.60 | $30.59 |
| $10,000 | $70.23 | $65.19 | $61.17 |
| $12,600 | $81.95 | $82.14 | $77.08 |
| $20,000 | $115.32 | $130.39 | $122.34 |
| $50,000 | $250.69 | $325.97 | $215.5 |
Source: SmartyPig, Affirm, Axos, author's calculation
So, what's the move here? According to our research, you'll earn more in interest with SmartyPig on amounts up to $12,600. If you plan to sock away more than that, you'll earn more at Affirm, which pays a flat 0.65% on all balances. This is the big caveat to tiered interest: Banks pull you in with a high initial rate compared to the competition but fail to point out that on larger deposit amounts you could actually end up earning less overall.
The fix: Consider how much money you're planning to deposit when comparing accounts that offered tiered rates on interest. Although less convenient, you may be best off splitting your savings between a few institutions to eke out as much interest as possible on every dollar.
Deposit and transaction limits: We found SmartyPig's "restrictions" to barely be restrictive at all. In fact, SmartyPig's withdrawal rules are way less limiting than you'll find elsewhere.
Federal regulations cap the number of withdrawals from high-yield savings accounts to six per statement cycle, per account. SmartyPig has a workaround: When you create a "goal," it technically becomes a new account outside of your primary SmartyPig account. Each month you're allowed six withdrawals from each goal account in addition to the six from your primary account.
| Sallie Mae SmartyPig transaction limits | |
| --- | --- |
| Withdrawal minimum per transaction | $0.01 |
| Withdrawal maximum per transaction | $50,000 |
| Individual user aggregate daily withdrawal maximum | $50,000 |
| Individual user aggregate monthly withdrawal maximum | $250,000 |
| Withdrawals allowed per month | 6 per account (primary and "Goal" accounts treated as individual accounts) |
| Deposit minimum per transaction | $0.01 |
| Initial deposit minimum for "Goal" accounts | $50 |
| Recurring deposit minimum in "Goal" accounts | $10 |
| Deposit maximum per transaction | $50,000 |
| Individual user aggregate daily deposit maximum | $50,000 |
| Individual user aggregate monthly deposit maximum | $250,000 |
| User account balance maximum | $250,000 |
Customer support: SmartyPig offers three ways for customers to get help:
Call toll-free 877-751-6884 Monday through Friday 9 a.m. to 6 p.m Eastern time
Log into your SmartyPig account to send a secured message
Twitter (@SmartyPig)
Fees
Of the 19 banks we analyzed during our high-yield savings account research, only one charged a monthly fee (CitiBank Accelerated Savings' $4.50 account maintenance fee). However, even if a bank doesn't charge a monthly maintenance fee, keep an eye out for other costs you might incur. Even the most minor fee can have a corrosive effect on the interest you earn. For example, one $5 fee immediately wipes out two month's worth of interest you'd earn on a $5,000 balance at a 0.60% APY.
The SmartyPig account is notably fee-free, but primarily because your options for fee-generating activities are greatly limited. For example, most banks charge $20 to $30 or more for outgoing wire transfers. SmartyPig doesn't, because it doesn't allow them. (As mentioned earlier, withdrawals must be done via an ACH transfer.) Similarly, you won't pay extra to get a paper statement mailed to you because it's simply not an option.
| Sallie Mae SmartyPig account fees | |
| --- | --- |
| Outgoing wire transfer | N/A |
| Monthly maintenance fee | $0 |
| Official check fee | N/A |
| Paper statement request fee | N/A |
Features and tools
Straight out of the gate, SmartyPig's savings tools — its savings goal settings and calculators — sweeten the deal. These tools make the tiresome act of saving money (dare we say it?) fun.
Still, it's not the most fleshed-out experience we've seen. Customers looking for a deluxe package of tools with features like mobile check deposit, dashboard customization and financial insights should check out ones offered by Ally and Axos, which go all out in this department.
Mobile app/website: SmartyPig's pleasant, intuitive app and website make managing your money super easy. The app brings all the features of the desktop version onto your mobile device, providing a consistent experience across platforms. Both offer banking basics, like one-off money transfers or automated savings. As noted, the biggest shortcoming in functionality was the absence of mobile check deposits.
investor.com quick tip: What's your savings goal? Having a goal — a specific dollar amount you aim to save by a certain date — helps you plan ahead and lets you track milestones (giving you a great excuse to celebrate when, for example, you're halfway there!). Plus, when savings are kept separate from everyday spending money, you're less likely to "accidentally" spend it. And high-yield savings accounts pay interest rates that are anywhere from three to 11 times the national average offered in standard savings and checking accounts.
Savings tools: Savings isn't a one-size-fits-all pursuit. SmartyPig provides the flexibility for users to customize how and how quickly they reach their goals. It offers:
Goal setting: For example, while saving for my wedding (Ashlyn here), I put in the date and SmartyPig told me how much I needed to save each week to walk down the aisle debt-free. It's easy to set recurring deposits, check progress, create subcategories — say, "catering down payment" — and make adjustments as needed. Setting up a goal, which has a $50 minimum, technically creates a new savings account under your primary SmartyPig account.
Automatic savings feature: This gives you the option of setting up recurring transfers to and from your linked account to avoid the hassle of having to remember to manually move money.
Calculators: SmartyPig's calculators (emergency fund, vacation fund, and wedding expenses) let you play out "what-if" scenarios to envision how long it will take to reach your goals on different timelines.
Educational content: During our analysis, we wanted to reward those banks that took the initiative to educate customers in addition to offering financial products. From SmartyPig's homepage, you'll find its blog (presented by Professor Pig — cute, right?), which contains an extensive library of articles about a wide range of personal finance topics. If you've got little ones in your life, be sure to check out SmartyPig's Kids' Corner, where you'll find a DIY piggy bank and downloadable "SmartyCash" to help children learn how to manage money.
Banking services
The primary function of a high-yield savings account is to hold your cash so it can rake in some interest until you need to spend it. Unless your primary bank offers competitive interest rates, you may end up managing multiple accounts at multiple financial institutions to maximize what you earn. Since that hassle doesn't appeal to everyone, we looked at what other services the savings account providers offered.
If you're on the SmartyPig site looking for other banking services, you won't find any beyond its savings account. However, parent company Sallie Mae does offer money market accounts, certificates of deposit (CDs), credit cards, and its infamous student loans — but no checking accounts.
| Sallie Mae banking services | |
| --- | --- |
| Checking account | No |
| High-yield savings account | Yes |
| Money market | Yes |
| CDs | Yes |
| Loans | Yes |
| Credit cards | Yes |
| Retirement savings accounts (IRAs) | No |
If you're looking for an all-in-one contender, check out Ally or Discover, where you can find seven-plus banking services to supplement your high-yield savings account.
Final thoughts
It all comes down to the interest rate. In this regard, Sallie Mae's SmartyPig account — offering 0.70% interest — beats the competition. But there's a caveat: The highest interest rate applies only to balances of up to $10,000. It drops to 0.55% on amounts above that. If you have anything over $12,600 in funds (the break-even point), consider parking the overage at a competing bank (Affirm has the next highest rate at 0.65%) to max out what your savings earn.
That said, if you're looking for a high-yield savings account to help organize, track and automate your savings goals and pay a highly competitive interest rate on a good portion of your account balance, SmartyPig delivers. Of all 19 banks analyzed for our guide to the Best High-Yield Savings Accounts for 2021, SmartyPig came out above the rest to earn the top spot for 2021.
About Sallie Mae SmartyPig
SmartyPig is a product of Sallie Mae, a financial institution that most of us know for its student loan offerings. On top of giving users a stellar interest rate on its high-yield savings account, Sallie Mae also offers FDIC insurance on all accounts and manages more than $194 billion in assets. The company trades on the Nasdaq stock exchange under the ticker symbol SLM.
2021 Savings Account Review Methodology
Our mission at investor.com is simple: provide thorough and unbiased reviews of financial services products and providers.
For investor.com's annual Best Savings Accounts Review published in August 2021, we collected a total of 532 data points over seven months to score and rank high-yield savings accounts. We assessed 19 banks across 70 variables spanning five core categories, including APY (annual percentage yield), monthly fees, user experience, account features and banking services.
All 19 institutions passed our initial screening criteria of having FDIC (for banks) or NCUA (for credit unions) insurance, online accessibility, and an interest rate above the 0.06% national average for savings accounts. To test quality and usability, we opened, funded and used each bank's high-yield savings account for a minimum of three statement cycles. We performed basic account functions (deposits, withdrawals, transfers) on both the desktop and app versions (where applicable), scoured all fine print and disclosures, and had some lengthy phone calls with bank service reps.
FAQs
How do I access my money in my SmartyPig account?
SmartyPig offers two ways to deposit and withdraw funds from your account: ACH transfer and direct deposit.
How do I reach Sallie Mae SmartyPig customer service?
SmartyPig customer service is available via phone by calling toll-free 877-751-6884 Monday through Friday from 9 a.m. to 6 p.m Eastern time. Customers can also send a secured message by logging into your SmartyPig account or via Twitter (@SmartyPig).
Is Sallie Mae SmartyPig bank a good savings account?
Sallie Mae SmartyPig offers an excellent high-yield savings account, paying one of the highest interest rates available. There is no minimum balance requirement to open an account and no monthly fee. Just note that the highest interest rate applies to balances up to $10,000; amounts above that are subject to a lower, though still competitive, interest rate.
What bank has the best high-yield savings account?
Sallie Mae SmartyPig offers an excellent high-yield savings account featuring one of the highest interest rates of the 19 banks we tested — 0.70% on balances up to $10,000. SmartyPig pays 0.55% on amounts over $10,0000. It requires no minimum balance to open an account and charges no monthly fees.
Compare savings account interest rates on our guide to the Best Savings Accounts for 2021.
Read Next
Explore our other reviews:
About the authors:
Ashlyn Brooks is a financial writer and former civil engineer. She's on a mission to show others how to save and spend smarter through purposeful money habits. Her work has been featured on Her Money.com, MoneyGeek, and Top 10.com.
Dayana Yochim has been writing (articles, books, podcasts, stirring speeches) about personal finance and investing for more than two decades, focusing on bringing clarity and the occasional comedic aside to what is often a murky, humorless topic. She's written for NerdWallet, The Motley Fool, HerMoney.com, Woman's Day, Forbes, Newsweek and others, and been a guest expert on The Today Show, GMA, CNN, NPR and wherever they'll hand her a mic. Read more about Dayana.