How Do I Start Investing?
question_answer What would you like to know?
Send your questions about personal finance to Ask investor.com for possible inclusion in our series.
So you want to invest? Yessssss. Investing is a great way to create wealth. We do a deep dive here into how to invest in five steps, but if you want the quick and dirty lowdown, here ya go: All you have to do is open an account, transfer money into it, and pick your investments.
More on each of those steps below, but maybe a little personal backstory first. I started investing in my early 30s (would that I'd gotten the message in my 20s, but what can you do) with a Roth IRA, making tiny monthly contributions. Twenty-five years later, I've now got a handful of 401(k)s and IRAs, and I've made years of consistent contributions into my accounts. Just over the past 10 years, I've earned more than $155,000 from investment gains alone.
So, yes, I'm a fan of investing for the future.
How to get started investing
You don't need a lot of money to get started investing: You can start with as little as $20. Here's how to do it.
1. Open an account
First, you need to open a brokerage account. Here's a guide to the best brokers on our sister site, StockBrokers.com.
If you want to start with a small amount of money, pick a broker that offers fractional shares. That way, you can invest, say, $20 in a company whose shares cost $200 each.
If you're thinking about investing for retirement — and yes, you absolutely should invest for retirement! — then consider opening a traditional IRA or Roth IRA. (Not sure which is best for you? Here's how to compare Roth IRAs vs. Traditional IRAs.) When you open your brokerage account, you can choose a simple brokerage account, or you can tell the broker you want to open a traditional or Roth IRA.
» Here's more on how to open a Roth IRA.
2. Transfer money
Step No. 2 is to transfer your money. Most brokers make it easy to move your money from your bank account to your brokerage account. These days, the process is straightforward and simple, though it might take a few days. While you're waiting, start thinking about Step No. 3…
3. Pick your investments
Figuring out which investments to choose is probably the hardest part of investing. Here's the good news: It can actually be very simple.
Target-date funds: The easiest way to start investing is to choose a target-date fund, which is a mutual fund that invests in other mutual funds for you, creating a wholly diversified investment portfolio with one easy click. Just pick the target-date fund that has your estimated retirement date in its name. (A mutual fund is an investment that pools investors' dollars to purchase shares of companies; mutual funds make it easy for you to create a diversified portfolio without having a lot of money.)
DIY investment portfolio: Another way to invest is to create your own diversified investment portfolio of low-cost mutual funds. This is how I am investing for my own retirement. It's a set-it-and-forget-it portfolio, though occasionally you do need to shift money to make sure your asset allocation stays in line with your goals. (Learn more about asset allocation.) Read more about how to build your own investment portfolio in Step 2 of our guide on investing for retirement.
Individual stocks: If you simply want to give stock picking a try, go ahead and use some play money to invest in a company you're interested in. Just make sure your brokerage account is at a broker that offers fractional shares so you can purchase a piece of any publicly traded company, no matter how much money you have. Just remember that investing in a single company, or even two or three companies, does not a diversified portfolio make. You are at risk of losing money if that company's stock loses value and you sell your shares. (With a mutual fund or exchange-traded fund, generally you're investing in many companies; one company's misfortune is offset by another company's wins, helping to maintain your portfolio's value.)
There you have it. A simple three-step process to get started investing.
For a little inspiration on your investment journey, just look at what your money can do for you, simply by putting it in a diversified investment portfolio: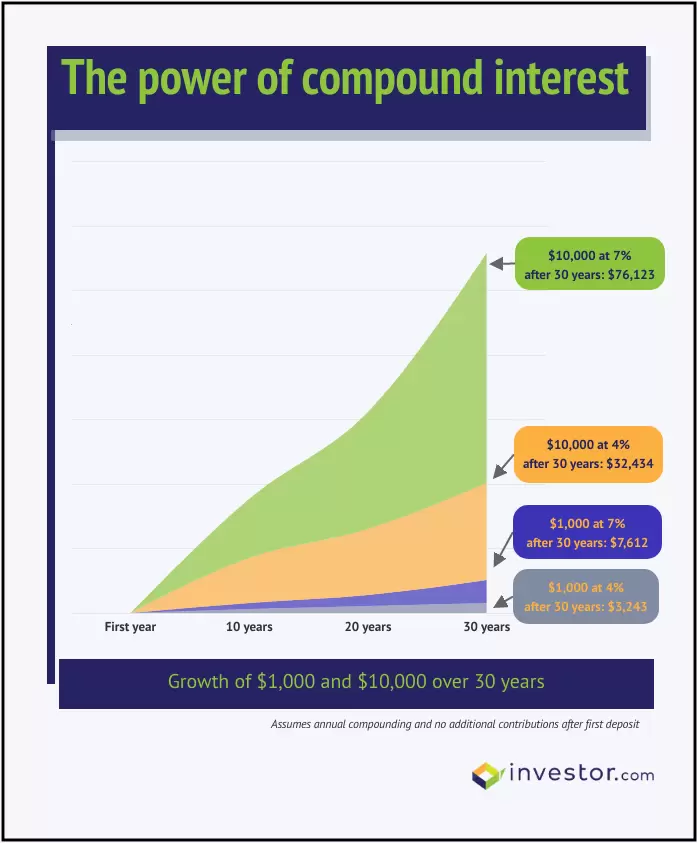 Next ❯
How Many Credit Cards Should I Have?
About the Editorial Team