Our Research
With a focus on transparency via regulatory data, investor.com helps thousands of Americans each month answer the question, "Can I trust you?"
Industry Scope
In the United States alone, there are more than 12,000 federally registered investment firms and over 600,000 licensed individuals who can provide financial advice.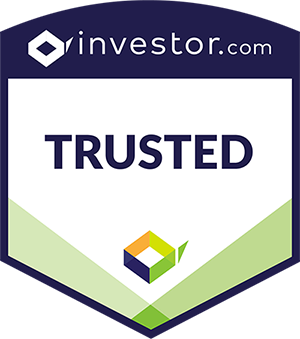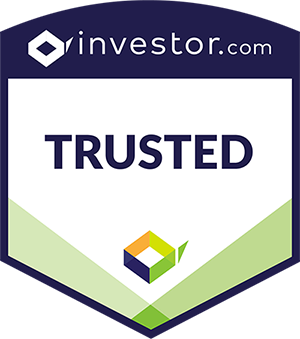 Trusted Badge
SEC regulated RIAs and financial professionals that meet our strict requirements earn the investor.com badge of Trust.
---
So… Who Do We Trust?
Our algorithm recalculates on the fly as new data comes in. Here are our latest findings.*
| | | | |
| --- | --- | --- | --- |
| Industry Registration | Total Trusted | Universe | Percent Trusted |
| SEC Registered Firms | 3,244 | 7,110** | 46% |
| Investment Advisor Representatives | 56,083 | 65,293 | 86% |
| Dually Registered Individuals | 8,527 | 294,446 | 3% |
| Brokers | 0 | 323,180 | 0% |
* Data as of 03/31/2019.
**Active SEC-regulated RIAs located in the United States, whose primary focus is providing financial planning services and/or portfolio management for everyday Americans.
---
What Data is Used? (Firms)
For SEC Regulated RIAs, here's a summary of the regulatory and proprietary data** we collect:
Background (15%)
Assets Under Management
Years Registered
Conflicts of Interest (20.5%)
12b-1 Fees
Attorney Conflict
Broker/Dealer Conflict
Commissions Compensation Conflict
Insurance Affiliation Conflict
Insurance Agency Conflict
Performance-Based Fees
Private Investment Management
Proprietary Investments
Side-by-Side Management
Soft-Dollar Benefit Conflict
Trades Recommended Securities
Disciplinary History (59.5%)
Activity Restriction*
Attorney/Accountant Authorization Revocation*
Business License Revocation*
Court-Ordered Investment-Related Prohibition
False Statements or Omissions*
Felony Convictions
Investment Related Misdemeanors
Investment Related Dismissal upon Settlement
Monetary Penalty*
Orders Entered*
Registration/License Revocation*
Regulation Violations*
* Disciplinary Actions brought by the SEC, CFTC, a Self-Regulatory Organization, a commodities exchange, or other Regulatory Agencies.
** Proprietary data accounts for 5% of the algorithm. For example, our system checks each firm's website to ensure it is secured with an up to date SSL-certificate.
---
What Data is Used? (Individuals)
For 600,000+ registered financial professionals, here's a summary of the regulatory data we collect:
Background
Average Tenure at Firms*
Employer History*
Years of Experience*
Disclosure Information
Customer Disputes*
Financial Disclosures*
Judgements & Liens*
Regulatory Events*
Terminations*
*Data gathered from both the SEC and FINRA.
Specifically, Investment Advisor Representatives are considered Trusted if they're able to meet the following minimum criteria:
Requirements
<3 Customer Disputes on their SEC or FINRA records
0 Terminations on their SEC and FINRA records
<3 Financial Disclosures on their SEC record or FINRA records
<2 Judgement/Liens on their SEC record or FINRA records
<2 Regulatory Events on their SEC record or FINRA records
>=2 Total Years of Experience
>1 Year Average Duration at Employers
For Dually Registered professionals, they must meet the same criteria above. Additionally, their SEC-Regulated RIA employer must also be considered Trusted. See above: "What Data is Used? (Firms)".
Lastly, since Brokers are not legally required to act as a
fiduciary
at any time, broker-only individuals are not considered Trusted by the algorithm.
---
Trust Algorithm Summary
view_list
1. First, we collect all publicly accessible data made available by the Securities Exchange Commission (SEC) and Financial Industry Regulatory Authority (FINRA). IMPORTANT: We DO NOT accept regulatory filings or data submissions of any kind sent to us directly as a substitute for SEC and FINRA data.
lock
2. Variables are strategically selected to be incorporated into the Trust algorithm.
insert_chart
3. Variables are then sorted and weighted individually based on their significance and the net impact on Americans.
rowing
4. Once all the data is collected, sorted, and weighted, the Trust algorithm goes to work to determine if a Trusted badge is earned. The Trust algorithm also produces a summary report that includes a list of all Benefits and Considerations, ordered by net impact.