November 9th, 2019
Starting today, Americans can now find a trusted, SEC-regulated financial advisor firm across 29,858 US cities. To protect privacy, investor.com only requires entering the city name to search.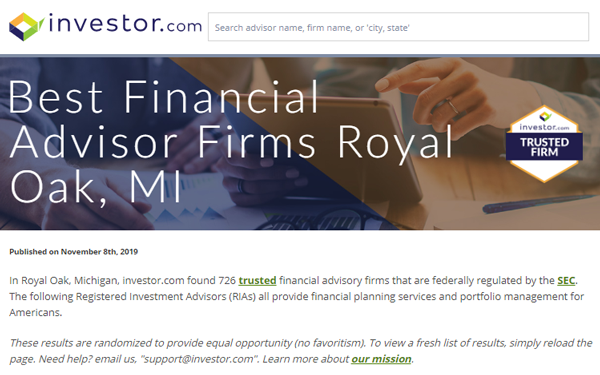 In the wealth management category, marketers see dollar signs when they think of mass affluent and high net worth individuals. Instead, we see hard-working Americans who are looking for help making tough decisions about their finances.
Here's what's wrong with Google search today:
Americans are stuck relying on "pay-to-play" listings and user testimonial sites with few, if any, real reviews, to find a financial advisor.
There is no transparency for Americans to dive into government data and consider both pros and cons to make an informed decision.
Many sites require entering personal information such as income, net worth, address, email, or phone number to get "matched." As we all know, this data is often sold many times over.
Only major cities across the US even have results available, leaving those in remote cities stuck with local newspaper ads, direct mailers, or similar paid resources to find help.
At investor.com, empowering Americans means providing a privacy first, conflict-free experience to all Americans, regardless of geographical location, to find an advisor firm they can trust. That's why we are so excited about investor.com city search.
Give it a try and let us know what you think. We can't wait to hear from you!