Bread Savings (Comenity) Savings Account Review
Editor's Note: Annual percentage yields (APYs) in this article are accurate as of the publication date. Investor.com updates interest rates when changes in the federal funds rate cause fluctuations.
In the lineup of best savings accounts, Bread Savings' 2.9% interest rate stands out from the crowd. Getting started requires a $100 minimum opening deposit (whereas most of the competition requires none). We found the sign-up process a breeze — our account was funded in a snappy two days — which means you can start earning one of the best APYs on your savings in no time. However, if you're looking for fancy account features and savings tools, that's not Bread's thing. (In a former life Bread Savings was known as Comenity Direct.)
Top Takeaways for 2022
After spending seven months testing 19 high-yield accounts for our inaugural review of the best high-yield savings accounts, here are our top findings on Bread Savings:
Bread Savings is an attractive option if you're looking for a no-frills place to earn a respectable interest rate on your savings, but falls short in some areas like tools, and requires a $100 minimum deposit to get started.


The provider offers one of the quickest sign-up processes in our hands-on research. This is the place where you can start earning interest on your money fast (like, practically yesterday).


Users should know that, as an online-only bank, Bread Savings has no physical locations and offers no ATM access. To make a withdrawal you must transfer money from your Bread Savings account to an external account via an automated clearing house (ACH) or wire transfer (there's a $25 per fee for the latter), or call and request a check ($15 per request).


Overall Summary

| Feature | Bread Savings |
| --- | --- |
| Overall | |
| APY | |
| Fees | |
| User experience | |
| Features and tools | |
| Additional banking services | |
Pros:
Quick account setup
$10 million deposit limit
Supports mobile check deposit
No monthly fees
Cons:
$100 minimum deposit
Online-only; no physical locations
Minimal account features
No ATM card access
User experience
Bread Savings earned a sparkling five stars in the category of user experience, mainly because of its fast and smooth sign-up process.
Account setup: In our initial testing of Comenity Direct (the former name of Bread Savings), the setup process was blissfully streamlined. Whereas other banks required at least one phone call as well as test deposit verifications, we were up and running and earning interest at Comenity within two days. Elsewhere this process took from three to eight days. Not having to waste time with multiple verifications is a huge time saver.
Deposit/withdrawal options: With no debit cards or physical branches, you're down to three options when it comes to accessing your funds; ACH transfer to an external bank (free), wire transfer ($25 per outgoing wire transfer request), or calling to ask Bread Savings to cut you an official check ($15 per request). These options are standard for most high-yield savings accounts; however, it's nice to have other ways to withdraw funds. For that reason, we gave banks that offered additional deposit/withdrawal options — such as an ATM card that comes with the account — a higher score during the review process.
Customer support: Bread Savings customer support is offered via:
The company's online FAQs
Phone 833-755-4354 7 a.m.-9 p.m. Central time weekdays; 9 a.m.-5 p.m. Central on weekends and most holidays
Internal message by logging into your online portal. (Note: It can take three to five business days for a response.)
Snail mail at Bread Savings, P.O. Box 182084, Columbus, OH 43218-2158
Twitter (@BreadFinancial)
Deposit and transaction limits: High-dollar savers will be happy to know that Bread Savings has sufficiently high limits for large deposits (you know, for that spare $1 million you have lying around) and withdrawals (the occasional $10K you might need on, say, a Tuesday). If you do need to grab more than $10,000 a day, you can always use your linked external account to request additional funds from your savings account.
As with most high-yield savings accounts, customers are limited to six withdrawals (or transfers out) per month, per federal rules. While the rules were relaxed during the pandemic, each bank was allowed to decide whether to change limits.
| Bread Savings deposit and withdrawal limits | |
| --- | --- |
| Outbound daily transfer limit | $10,000 |
| Inbound daily transfer limit | $1,000,000 |
| Maximum deposit limit | $10,000,000 |
Account minimum
Bread Savings has a $100 minimum to establish a high-yield savings account. Though minimums can go a lot higher (at Citizens Access, for example, you need $5,000 to get started), there are many banks that require $0 to set up an account.
Bread Savings gives you 60 days to produce this $100 deposit or risk your account being forcefully closed. (Rude!)
Fees
Of the 19 banks we analyzed, only one (Citi Accelerate Savings) charged a monthly service fee. (It waives the $4.50 fee for customers who meet certain requirements.) However, even if a bank has no monthly maintenance fee, savers should keep an eye out for other costs you might incur. The most minor fee can have a corrosive effect on the interest you earn. For example, a single $10 fee immediately wipes out an entire month's worth of the interest you'd earn on a $5,000 balance earning a 2% APY.
As a heads up, though there is that $100 minimum to open, there is no penalty fee if your account balance later drops below $100. You won't be charged for having, say, $1 to $99 in your account instead of $100, although the bank may close your account if it stays below the minimum for more than a few months.
| Bread Savings account fees | |
| --- | --- |
| Outgoing wire transfer | $25 |
| Monthly maintenance fee | N/A |
| Official check fee | $15 per check |
| Paper statement request fee | $5 |
Features and tools
Bread Savings isn't the place to go if you're looking for money management features or autosave tools. Both are almost nonexistent, though when we set up the account under the former Comenity Direct system, mobile check deposits — which lets you snap a picture of your check and have your funds available within three business days — was supported.
Site look and navigation: Bread Savings offers pleasing navigation and a customizable dashboard that is mimicked in the app. It allows you to pin cards for your most important functions (transactions, transfers, and so on) on your home screen for easy viewing. This makes it easy to see at a glance if your transfer went through or when an interest payment hits your account.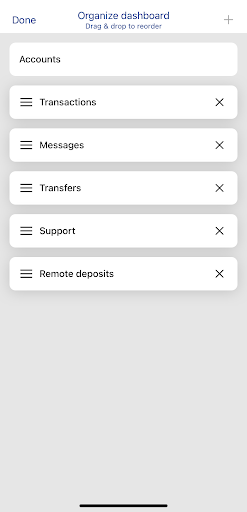 App: Bread Savings' app design and functionality mirror the desktop experience, including the ability to customize the arrangement of information and tools to your liking. From the mobile app (available for iOS and Android), you can make deposits and withdrawals, check your balance, and contact customer care.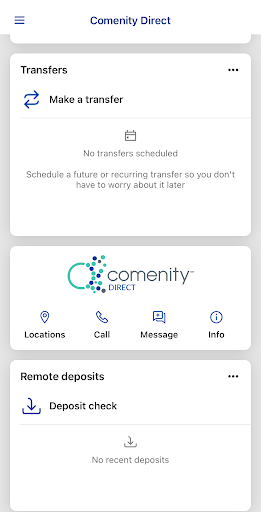 Educational content: During our analysis, we wanted to reward those banks that took the initiative to educate customers in addition to offering financial products. Bread's educational content is relatively thin: There are just four articles in its entire library and a handful of savings calculators. It's definitely not the deep bench you'll see with competitors like SmartyPig. That said, there are plenty of places around the web offering savings management tips and tricks.
Banking services
The primary function of a high-yield savings account is to hold your cash so it can rack up some interest until you need to spend it. If your primary bank — where you have your checking account — doesn't offer competitive interest rates, then you're looking at moving some of your money to a different bank. Since some folks prefer to have everything under one roof for convenience's sake, we looked at what other services each savings account provider offered.
Bread Savings is focused solely on savings products, offering only the high-yield savings account and certificates of deposit, or CDs. Although its parent, Comenity Capital Bank, does offer store-branded credit cards, the lack of additional services like checking accounts means this isn't a contender to be your all-in-one bank.
| Bread Savings banking services | |
| --- | --- |
| Checking account | No |
| High-yield savings account | Yes |
| Money market account | No |
| CDs | Yes |
| Loans | No |
| Credit cards | No |
| Retirement savings accounts (IRAs) | No |
If you're looking for more of a one-stop shop for your banking, you might check out competitors Ally and CitiBank, which stood out in our analysis.
Final thoughts
The current 2.9% APY, lack of monthly fees, a simple sign-up process and the ability to fund your account by the next business day, makes Bread Savings our top choice for a no-frills, online-only high-yield savings account. What keeps Bread Savings from earning higher marks is its $100 minimum deposit (most banks have none) and lack of account features (see our Best High-Yield Savings Accounts list for banks with more robust offerings and comparable interest rates).
About Bread Savings
Bread Savings (formerly Comenity Direct) was established in 2018 as a digital branch of Comenity Capital Bank. Comenity Capital Bank is the name behind more than 160 store-brand credit card programs for retailers such as Petco, Cost Plus World Market, Academy Sports & Outdoors and Pier 1. It is a privately held company and manages more than $10 billion in assets. Bread Financial offers FDIC-insured high-yield savings accounts and CDs.
Savings Account Review Methodology
Our mission at investor.com is simple: provide thorough and unbiased reviews of financial services products and providers.
For investor.com's Best Savings Accounts Review, published in August 2021 and updated in 2022, we collected a total of 532 data points over seven months to score and rank high-yield savings accounts. We assessed 19 banks across 70 variables spanning five core categories, including APY (annual percentage yield), monthly fees, user experience, account features and banking services.
All 19 institutions passed our initial screening criteria of having FDIC (for banks) or NCUA (for credit unions) insurance, online accessibility, and an interest rate above the 0.13% national average for savings accounts. To test quality and usability, we opened, funded and used each bank's high-yield savings account for a minimum of three statement cycles. We performed basic account functions (deposits, withdrawals, transfers) on both the desktop and app versions (where applicable), scoured all fine print and disclosures, and had some lengthy phone calls with bank service reps.
FAQs
How do I access my money at Bread Savings?
With no debit cards or checks offered, you're down to three options when it comes to accessing your funds: ACH transfer to an external bank, wire transfer or call and request a check.
How do I reach Bread Savings' customer service?
Support is offered in four ways:
By phone: 833-755-4354 7 a.m.-9 p.m. weekdays Central time; 9 a.m.-5 p.m. Central on weekends and most holidays
Internal message by logging into your online portal
By mail: Bread Savings, P.O. Box 182084, Columbus, OH 43218-2158
Twitter (@BreadFinancial)
Is Bread Savings legit?
Bread Savings (formerly Comenity Direct) is a legitimate financial institution, with funds insured by the FDIC up to $250,000 per depositor. Its parent company, Comenity Bank, has been in business since 1986.
Is Bread Savings FDIC insured?
Yes. Bread Savings offers FDIC insured accounts, which safeguards your funds up to $250,000 per depositor.
Read Next
Explore our other reviews:
About the authors:
Ashlyn Brooks is a financial writer and former civil engineer. She's on a mission to show others how to save and spend smarter through purposeful money habits. Her work has been featured on Her Money.com, MoneyGeek, and Top 10.com.
Dayana Yochim has been writing (articles, books, podcasts, stirring speeches) about personal finance and investing for more than two decades, focusing on bringing clarity and the occasional comedic aside to what is often a murky, humorless topic. She's written for NerdWallet, The Motley Fool, HerMoney.com, Woman's Day, Forbes, Newsweek and others, and been a guest expert on The Today Show, GMA, CNN, NPR and wherever they'll hand her a mic. Read more about Dayana