About Dayana Yochim
Dayana Yochim is a senior writer/editor for investor.com. She has been writing (articles, books, podcasts, stirring speeches) about personal finance and investing for more than 25 years, focusing on bringing clarity and the occasional comedic aside to what is often a murky, humorless topic. Dayana has also been a guest expert on "Today," "Good Morning America," CNN, NPR and other major media outlets willing to clip a mic to her lapel.
Her areas of expertise include budgeting, saving, debt, credit (credit scores, credit cards), couples' finances, retirement (IRAs, 401(k)s), beginning investing, and behavioral economics (your brain on money). Dayana knew she had officially arrived when her work was cited as a source on credit scoring on the "Credit score in the United States" wikipedia page.
Dayana's professional priors include stints at NerdWallet, the Motley Fool and Jean Chatzky's HerMoney.com. She's also written for numerous publications, including Woman's Day, Forbes, Newsweek, Jane, and the Associated Press. She is the author/co-author of several personal finance books, including "Couples & Cash: How to handle money with your honey," "The Motley Fool Personal Finance Workbook," and a contributor to "How to Money" and "You Have More Than You Think." Dayana also helped launch and co-hosted two podcasts, Motley Fool Money (where she also wrote and recorded the glockenspiel-centric theme music) and NerdWallet's SmartMoney podcast.
Dayana has a bachelor's degree in journalism from the University of Kansas, just a few miles from where she grew up in Lawrence, Kansas.
Connect with Dayana: LinkedIn, Twitter
Some previously published work by Dayana
investor.com: Best Cashback Credit Cards
LA Times: How to manage your 401(k) in uncertain times
MarketWatch: Do you have enough retirement savings to last 23 years?
USA Today: Powerball jackpot will cost winners big bucks: Here's how
USA Today: Try these 4 mental tricks to save more for retirement
USA Today: 401(k) myths you can't afford to believe
Women's Day: Women's Day: How to beat bad spending habits
Women's Day: Money "mistakes" worth making
HerMoney: Ways to empower young women to manage their finances
HerMoney: The triple threat to your investment returns
NerdWallet: Financial goals: Where to begin
NerdWallet: How to find an old 401(k) -- and what to do with it
Fox Business: 5 Warren Buffett quotes can make you a better investor
The Motley Fool (video): Should I try to make money on my emergency stash?
An expert source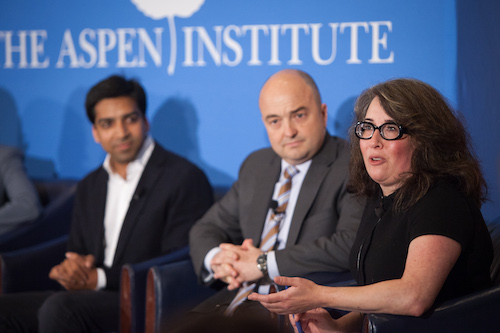 Dayana Yochim moderating a panel on financial well-being in the workplace at the National Press Club for the Aspen Institute. Photo by Katy Bryan, courtesy of the Aspen Institute
In addition to her research and writing, Dayana is a sought-after source in her own right, having been interviewed about personal finance issues by many top-tier U.S. networks and publications, including the New York Times, Real Simple, the Washington Post, Men's Health, Details and other outlets. Some highlights:
"Good Morning America": Experts answer your 401(k) questions
ABC News: Saving during tough times: Five questions to ask yourself
CBS News: Unusual ways lottery winners spent their money
Washington Post: Here's how much the average single American spends on their dating life